The Juniperus family includes a wide variety of trees and shrubs, natives of Northern Europe, South-West Asia, North Africa and North America.
Distribution and history
Common juniper (Juniperus communis) is a prickly evergreen shrub or small tree with needle like leaves, supporting greenish-yellow flowers and small round berries, growing on mountain slopes, heaths and in coniferous forests.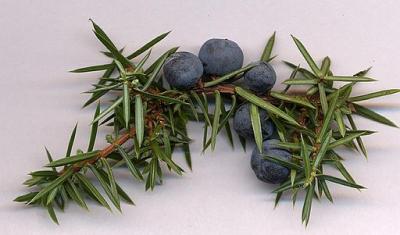 Throughout history juniper has been burnt as incense during rituals and ceremonies, its piney, pungent aroma used as a disinfectant, fumigant and purificant. On May Day Eve in Britain, branches of juniper were once hung on doors to protect the inhabitants from witchcraft.
In Northern Tuscany, even to this day, huge bonfires called Natalecci are burnt on Christmas Eve, originally to ward off the evil eye and bring good luck. A Nataleccio is constructed in cylindrical form by driving a chestnut tree trunk into the ground and weaving a large number of juniper branches around it to ensure a long lasting flame.
The juniper "berry" is in actual fact the female seed cone produced by the juniper shrub. These cones are covered with fleshing scales and take 2 to 3 years to mature. Each plant bears berries in various stages of ripeness, from the immature green berries to the mature purple-black ones. When the ripe berries are harvested they are then partially dried and develop a blackened colouration.
Culinary uses
Juniper berries are commonly used as a spice, either fresh or dried, in a lightly crushed form in food and beverages.In Scandinavian and German dishes, juniper is traditionally used with sauerkraut and other herbs and is gaining a resurgence in modern cuisine; often paired with game such as pheasant, chicken, venison and Winter vegetables like red cabbage. The berries have a slight pine like flavour with elements of fruitiness and pepperiness.
Juniper provides the classic gin note to the proverbial beverage; mixed with other botanical ingredients such as angelica seed, coriander, lemon and orange peel, cinnamon bark, fennel, caraway and cardamom seeds.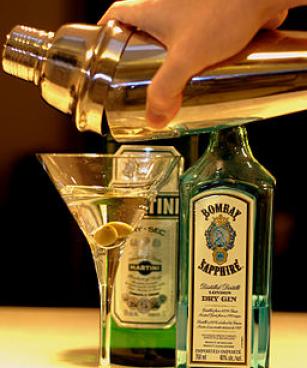 Essential oil
Juniper essential oil is distilled from the berries of the plant,commercially produced in the Indian Himalayas, Italy, France, Croatia and Hungary. The needles and twigs also yield an essential oil but is considered an inferior product with a turpentine-like aroma.
The dominant aromatic compound is the monoterpene alpha-pinene; contributing to juniperberry's piquant, bracing, resinous and slightly woody scent, with a lingering freshness. It acts as a middle note in an essential oil blend; useful for its fresh-balsamic notes and melds nicely with essential oils of black pepper, cedarwood, frankincense, rosemary, lavender, sandalwood and most citrus oils. The oil acts as a modifier for pine needle oils and can be combined with cypress, clary sage, benzoin, oakmoss absolute and labdanum absolute for their fixative effects.
Juniperberry from the Himalayas is an ingredient of the Scentcillo Greek Island essential oil blend, imparting a rousing freshness and soothing quality to the composition.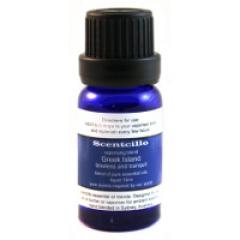 Vaporising blend
Drawing from the symbolism of juniper as a purifying and cleansing aroma, coupled with the clarifying scents of lemon and lavender, try this essential oil blend to add a light, fresh, breezy and rejuvenating ambience to your space:
6 parts Alpine lavender, 5 parts cold pressed lemon, 4 parts juniperberry, 2 parts patchouli, Australian sandalwood essential oils.
When and where to use:
Use as an aromatic cleanser to your space to herald in the New Year.
Diffuse during casual entertaining, lazy weekend afternoons, staycations at home, warm weather.
Suits a space decorated with a relaxed and paired back aesthetic or a place close to the ocean or water.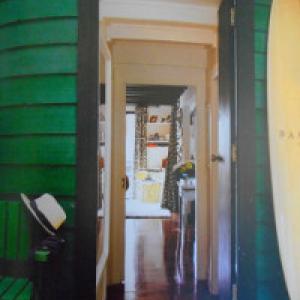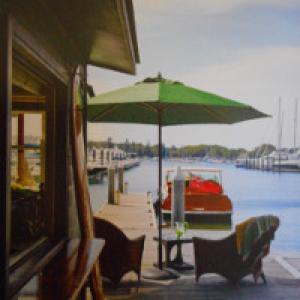 A recipe for Grapefruit Juniperberry Fizz from La Fuji Mama.
Juniperberry fruits available from Herbie's Spices in Rozelle,Sydney.
Antimicrobial activity of juniperberry essential oil. Link to abstract here at PubMed.